A picture is worth a thousand words. A logo probably does too. In any case, graphics enrich a presentation immensely. To integrate a specific image or logo on each slide without much effort, this should be done via the slide master.
1. We click on the View tab and there on Slide Master.
2. We are now in the slide master and click on the top slide of the left overview column.
3. Click the upper Insert tab in the Images group.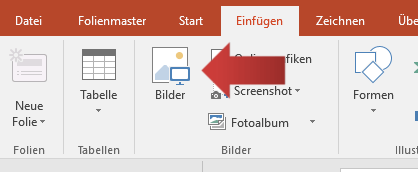 4. Now the dialog window "Insert graphic" appears, where the desired image can be selected. We select an image and click Insert.
5. The photo is now on the slide. At this point, the size can be changed. Clicking on the image shows the white handles at the corners. We move our mouse pointer to a corner and, holding down the left mouse button, drag the image to the correct size. If we click on the center of the image, we can press and hold to move the image to another position. The example below shows how an inserted image can look like. Here it should be noted that the placeholders should be adjusted using the same technique.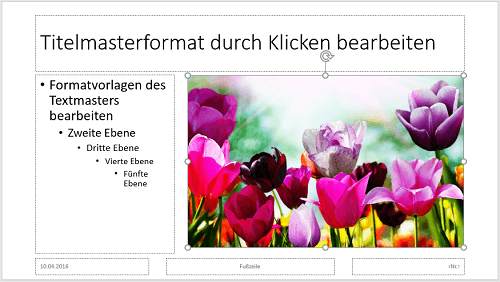 6. This image should serve as a logo for our presentation. Therefore, we reduce its size and drag the graphic to the upper left side of the slide. The title bar placeholder will be shortened accordingly.
7. Finally, we close the slide master by going to the Slide Master tab and clicking Close Master View on the right side.
8. Now the logo will be shown on each slide of our presentation.