It would be too bad or tedious to have to create a new design for each new presentation or to adjust the look of each slide individually. With PowerPoint, templates can be saved and used over and over again. This saves a lot of time and money. This tutorial shows how to save a finished design in the slide master as a PowerPoint template. In the slide master, the layout is specifically determined, how and where texts, images, diagrams and tables are displayed. Colors, fonts, background images and much more can be easily designed from here.
Save the current design
In PowerPoint you have the choice to select a ready-made design, to customize it or to create a completely own design. If you have created a custom design, you should save this design as a template for your next presentations. This tutorial shows you how to save your current slide design in the slide master.
1. First we switch to the slide master by clicking on the View tab and then on Slide Master.
2. On the Slide Master tab we go to the Edit Design group and click the Design button. The design we created will be titled as "This Presentation".

3. At the bottom of the menu there is a command "Save current design" which is clicked.
4. The Save current design dialog box appears, where the name of the design is entered in the File name field. The location and file type should not be changed to prevent PowerPoint from not finding the design. Finally, click on Save.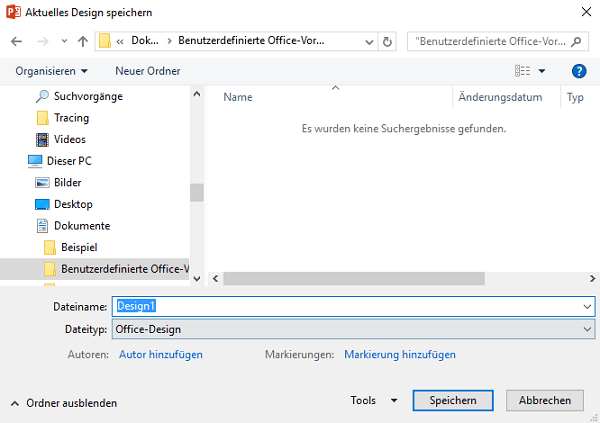 5. The design we created can be easily applied to new designs. To do this, we open a new presentation by pressing CTRL+n (or in the File tab under New and finally on Blank Presentation).
6. In the blank presentation, we go to Designs through the Design tab and select the design saved in step 4. with one click. The blank presentation will now take over the design with all colors, images, logos, font formats, etc.
Hinweis: die Fußzeileneinstellungen werden nicht in den Designs gespeichert und müssen manuell geändert werden. Wie das funktioniert wird Schritt für Schritt in dieser Anleitung erklärt.
More tutorials for the slide master