PowerPoint offers many functions to embellish graphics, including reflection effects, 3D effects or shadows. This chapter shows how to use the most important settings for frames.
Decorate frame
You can draw a frame around any element in a PowerPoint slide. To do this, we first select the desired graphic.
Note: Frame dragging also works with text elements, shapes, etc.
In the Format tab (Image Tools), in the Shape Types area, click the small arrow next to Image Frames (or Graphic Frames in older PowerPoint versions).

The frame color catalog appears. Here we can select a color.
Hinweis: Weitere Farben verbergen sich unter der Option weitere Linienfarben.
Furthermore, the frame thickness (frame width) and strokes (stroke type) will be set from here.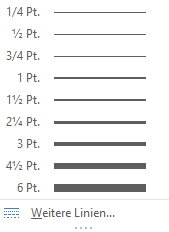 For further settings we select the graphic on the slide and in thei Format tab (Image Tools) we select the small Format Shape button.

On the right side the graphic format bar opens. Special effects can be set here! To understand the effects better, you should experiment with them a bit.
Image format templates
First, we click on a graphic to select it.
Now the Format tab (Image Tools) appears, to which we navigate and look at the image format templates. There we click once on the small black arrow (see picture).
A catalog opens with the preset formats for images. As the mouse pointer moves over the templates, PowerPoint shows the effects on the graphic as a live preview. We click the "Rotated, white" variant to apply the format.
This is what the result looks like: