Images are important for a successful presentation. However, it often happens that images are visually adjusted, corrected, colored or artistically distorted to create a certain style in the entire presentation.
Formatting graphics
We click on an image with the right mouse button and choose Format Graphic in the context menu.
The Format Graphic bar appears on the right side. For the image settings we click on the image icon (red arrow) and then on image corrections (green arrow).
Here we can adjust settings like the sharpness, brightness, contrast with the sliders. Alternatively, a number can be entered in the boxes using the keyboard. Clicking on the sun icon to the right of the presets shows us a menu with different variants of brightness and contrast as a preview.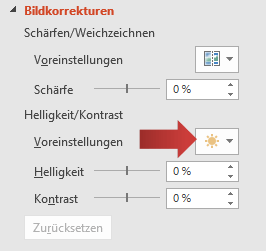 We click on the combination of brightness and contrast that fits best.
The second menu item contains settings for the image color. Here we can adjust the color saturation or hue. Using the sliders or keystrokes in the boxes, the respective settings can be made.
Clicking on the preset icon reveals several variants as presets.
Color saturation (pale or bright colors):

Hue (cool or warm colors):
The graphic can be completely colored:
Use artistic effects
Artistic effects alienate the image very strongly. This allows you to create spectacular images, just like in an image editing program. However, art is debatable and taste anyway. Therefore, I can only give a warning and advise to use these effects very dosed. An "artificial" presentation is very rarely a good presentation.
We mark a picture with the left mouse button.
The format tab (Image Tools) appears and we navigate to it.
In the Adjust group on the left side we click on the "Artistic effects".
A menu with a number of design options appears as a preview. We select the Line drawing effect. The artistic effect can be swapped with other effects as many times as you want. Multiple effects cannot be combined.
Effects can be customized even more. We click on Artistic effects as described in point 3 and then we click on Options for artistic effects.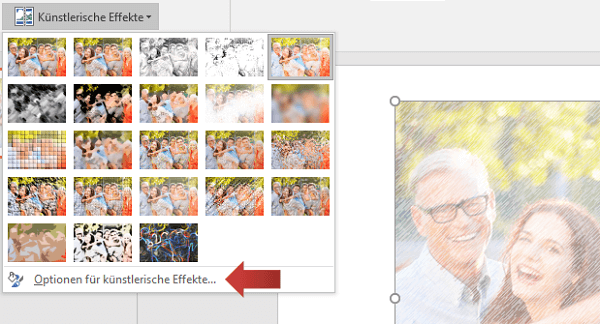 The Format Graphic bar opens on the right side.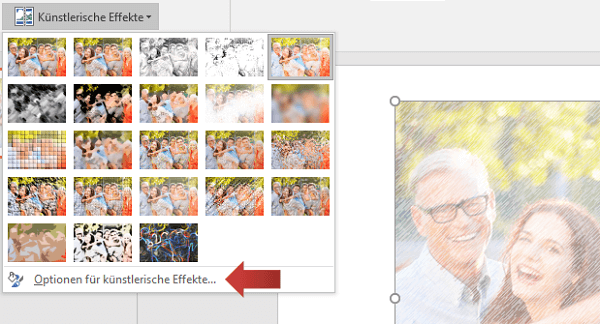 Depending on which effect was selected, further adjustments to the effect will be made at this point. In our example we can vary the transparency and pencil size.
Clicking on the image icon (red arrow) lets us change the artistic effect.